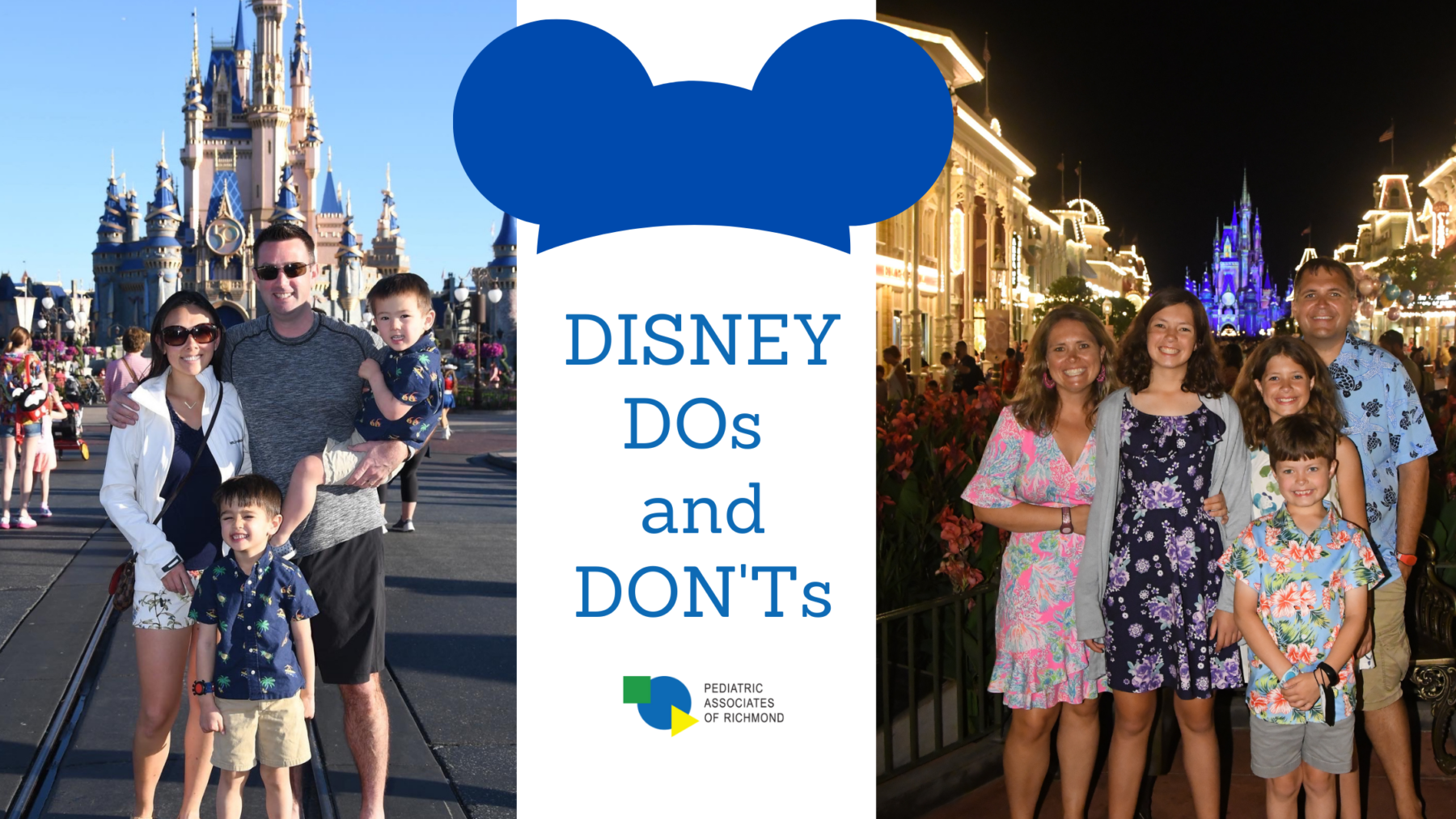 Not only are they highly informed when it comes to treating kids, but two of our PAR providers are also extremely knowledgable about all things Disney! With close to 50 trips to Disney Word between the two, Drs. Hale and McIntosh understand the method to the magic.
We covered everything from "dos and don'ts" to family favorites and the best eats in the House of Mouse. Whether you are planning the first or fifth trip, there's something for everyone in this latest blog. Enjoy!
Q: Best age to go with kids?
Hale: Every stage of life is different but equally as fun. We started taking our kids when they were 6 months old! I can't pick a favorite trip because every time is so different — little moments are so fun when they are younger and seeing everything for the first time, but as they get older, it's more collective fun and we can enjoy the same thing. Going in with a plan is key and having guarded expectations will improve your overall experience.
McIntosh: When we first went, our oldest was 4 and we swore we'd never take a baby. Then the next time, our youngest was 2…and it just kept getting younger because Disney makes it family friendly as possible. I will say though, as my kids have gotten older, we do enjoy it more with no stroller and we are not trying to keep up with 5,000 things. There are no expectations — it's just fun.
Q: Favorite park — your personal pick and your family favorite?
Hale: Personal favorite is Epcot because of the food and leisurely strolls! Family vote is for Hollywood Studios.
McIntosh: I love Animal Kingdom – be sure to check out the wilderness badges. Family vote is for Magic Kingdom because of the nostalgia.
Side note for those that have been multiple times and are looking for more adventures, there are add-on options for animal encounters, behind-the-scenes underground tours and other extra experiences to consider.
Q: Favorite spots to eat?
McIntosh: Our ultimate favorite family thing is Hoop-Dee-Doo Musical Revue – it's a non-park secret! A campground, food, drinks, music and a show is hard to top. My kids love it so much we've been five times!
Other favorites – Animal Kingdom Lodge for breakfast buffet because my family loves eating adventurous things but not always, so it's a good balance of donuts/waffles and African-inspired dishes.
Trattoria al Forno – an Italian restaurant on the Boardwalk and 50's Prime Time Cafe where you better eat your green beans!
Hale: In addition to all the great spots at Epcot, we love the Sci-Fi Dine-In Theater Restaurant where you sit in an old-school car, watch retro movies, while eating burgers and milkshakes! For date night, you can't top Victoria and Alberts inside the Grand Floridian.
Q: Why do you love Disney?
Hale: It is good family time — we love doing what we love together. And, even the planning and lead up brings happiness for months — there's more joy than just that time in the park!
McIntosh: It's the magic of it. If you go with the right mindset and expectations, go for what guides your kids fun, then you'll have a great time.
See below for their TRIP DOs and DON'TS. We can't wait to hear about your next trips (in May and June) — thanks for sharing your Disney knowledge!