Contact Us
In case of emergency, dial: 911
Poison Control: (804) 828-9123 or 800-222-1222
If you need to take your child to the Emergency Room, we recommend St. Mary's, Chippenham, or VCU.
West End Office
7113 Three Chopt Road, Suite 101
Richmond, VA 23226
Monday – Friday: 7:30 a.m. to 7:30 p.m.
Saturday: 9 a.m. to 12 noon
Phone: (804) 282-4205
Fax: (804) 673-6432
Mechanicsville Office
8485 Bell Creek Road, Suite B3
Mechanicsville, VA 23116
Monday – Thursday: 8:30 a.m. to 6:30 p.m.
Friday: 8:30 a.m. to 5 p.m.
Phone: (804) 282-4205
Fax: (804) 559-9227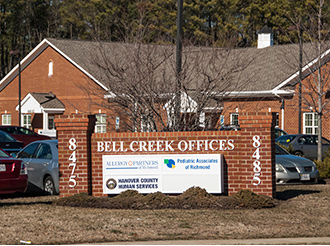 Billing Office
Monday – Friday: 9 a.m. to 4:30 p.m.
Phone: (804) 288-9190
Fax: (804) 288-0935
Sign Up for our Emails
Enter your name and email address to receive pertinent announcements such as inclement weather closings, and our monthly e-newsletter which features seasonal or news-worthy topics related to children's health.
Patient/Parent Feedback
Direct feedback helps us continuously improve patient care and other services.  If you have a comment or suggestion for our practice, please submit it via the form below.
Note: This is not to be used for asking questions about the health of your child, nor should you include any personal medical information in the submission.